An entrepreneurial super star
Abstract:


He's been there, done that and conquered it all. Starting at a very tender age, this fierce business magnate from Chennai is a testimony of 'how to earn success and goodwill through sheer hard work and dedication'. He has made his remarkable mark in a vast spectrum of businesses that span from movies to textile and from mega malls to forestation. He's a movie buff, a philanthropist, a humanitarian, a sporty swimmer and an ace shooter. In our very first attempt, we bring to you the insight into one of our country's brightest business mind – an exclusive one-on-one tête-à-tête with Kalaimamani Abirami Ramanathan, the Managing Director of Abirami Mega Mall


Main Article:
In my schooling and formative years were in the Madras Christian College High School 10th Standard, in the year 1963 I started my first commercial venture by starting a small quarterly magazine called STUDENT and with the help of my Head Master sold the copies to my peers at the rate of 25 paise per copy. From a modest 150 copies, out of which only 25 copies were sold initially, I increased the volume of sales by innovative marketing. I numbered the copies and planned a lucky dip where the students were given a prize when the number of their book was drawn. I then organised these prizes with the help of the classmates, who were asked to bring any used articles from their homes. Slowly the sales swelled to 300 copies. He raised the price to 50 paise. The volumes slowly increased to above 600 copies & the net profit per quarter came to around Rs. 300.
I was good in photography and with the help of a Roliflex Camera bought by my father, in 11th Standard, I stood 6th in a Photography World Championship and won his first medal.
In NCC, I perfected my shooting and became a state shooter. While in the Guindy Engineering College, Chennai, from the 3rd year onwards, I took marriage photographs, during spare time and earned money for my personal expenses.
I learnt the art of motor bike servicing by watching my mechanic repairing the 350 C.C Jawa (czheckoslavakia) Mobike purchased by my father, for his use.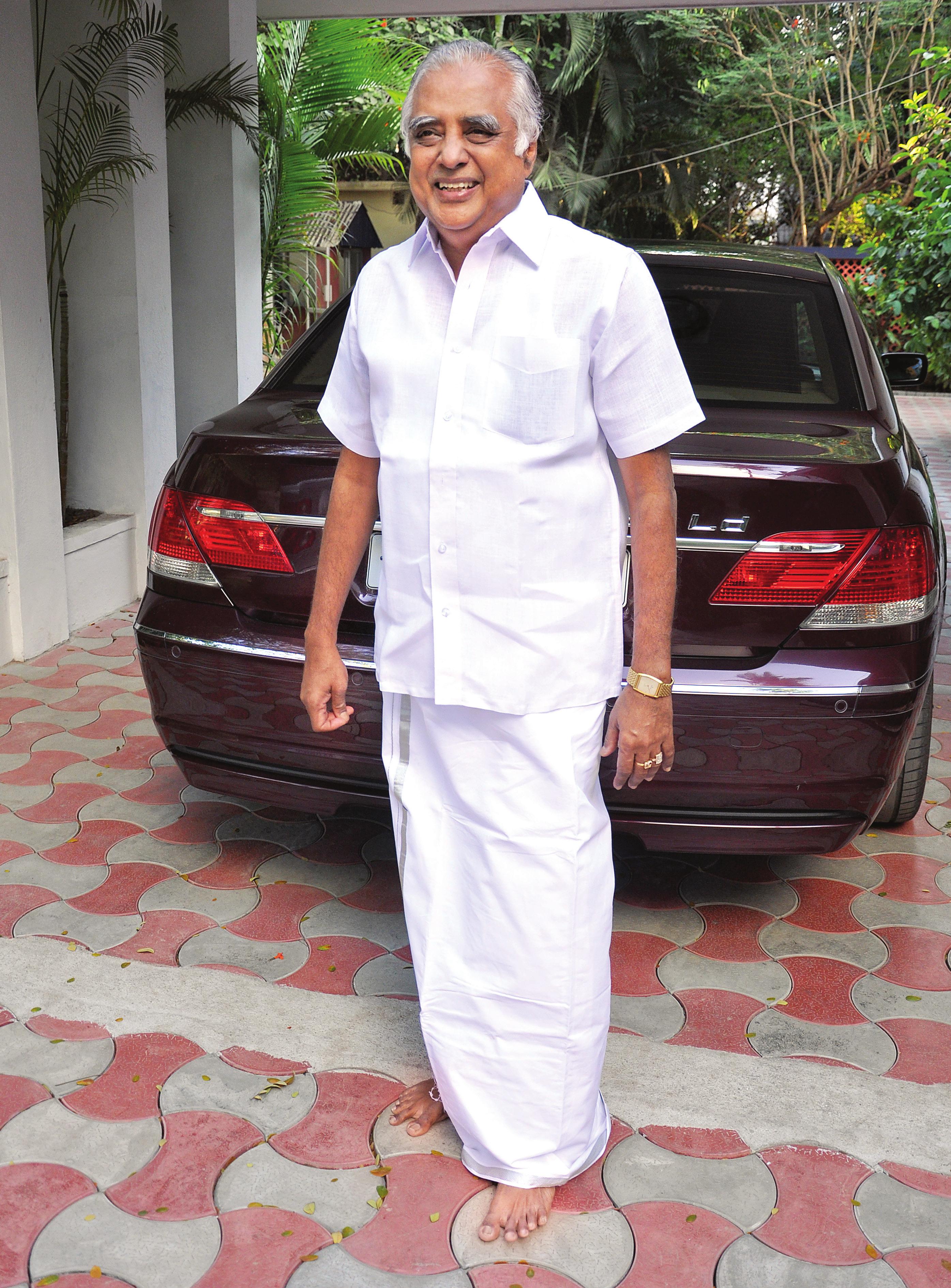 I started servicing the motor bikes of my College mates at half the cost charged by the mechanic, during the evenings.
I was good in opening locks using hairpins etc. which also helped me to augment my earnings, when any of the hosteliers lost their room key.
Along with his classmates I started a small cigarette and candy shop, in my hostel room to cater to the college students. By the end of college, I had saved a large sum of Rs. 9,000/-
I was the first Engineering graduate in my family.
Instead of joining my family business of spinning mills, Oil Mills, Pawn Broking and Rubber Estates in Malaysia, I started as an entrepreneur manufacturing plastic Injection molding components for Vijay Iron boxes & Murphy Radio. Unfortunately, due to market recession, I lost all my savings.
Then, I joined my father's Pawn Broking business, in Keeranur (Near Trichy) where I became adept at the "Chettiar system of Accounting, " which was then recognized by the Britishers.
Later for 1 year, I worked in my father's Rubber Plantation and also indulged in Currency Trading.
When I returned to India, I joined my father's spinning mill of 50,000 spindles in Andhra Pradesh as a trainee Engineer and during his 2 years tenure, he increased the efficiency and profitability of the Mill by increasing the count of yarn, innovatively.
When my father proposed to construct Abirami Theatres, I shifted to Chennai and worked as a Site Engineer. Meanwhile, during my spare time I indulged in cheque purchasing mobilized deposits for banks for a commission, manufactured human weighing machines & running them to augment his savings.
I later stepped into the movie business that is buying and selling of Tamil, English & Hindi movies.
This interest was kindled since I acted as a child artist, at the age of 10 years in a short film called "Chacha Nehru," in the year 1957. The actors in the movie were Jawaharlal Nehru, C. Subramaniam, Kakkan, Vyjayanthimala Bali, Kamaraj etc. I have taken 3 movies in Tamil and a T.V. Serial.
Regarding Philantropy, after my marriage with Nallammai, in 1992 on our way to Mahabalipuram, near Neelankarai, we found a municipal school, where children were studying under a tree. Nallammai was distraught and requested me to construct a classroom for them. We spent Rs. 35,000/- and built a classroom for the children.
Nallammai and me travel abroad extensively and pick up ideas, innovate them to suit Indian conditions & Implement them like DTS etc. etc.
In 1966 I was the Student Congress Treasurer for Chennai City. When I stepped into business, I wanted to move away from Politics. But, my father advised me to maintain good relationship and friendship with all politicians, which will also help me in facilitating my business.

In the Entertainment field, always innovate technology, keep changing, and offer something new and attractive every six months. Keep the public interested. This will deter competition.
The Cinema Industry is an industry where once one enters, he can never leave.
"The Involved have to "Worry daily to erase the worries of those who go to them."
Increase employment and economy of the state congruent to the state government's policies.
Work hard honestly and sincerely. Distribute the profits as shown below:-
25% -to be invested in business, 25% - for Children, 25% -for Old age, 25% -for Charity
From an engineering student to a renowned Businessman and philanthropist today – how and when did your journey begin?
As a businessman, you have introduced various first-time innovations in your ventures- what inspired such forward and advanced business strategies?
Being the recipient of the prestigious 'Kalaimamani' title by the Government of Tamil Nadu, tell us about your experience of working so closely with the government?
Given the present economic condition, sustaining a successful business in the market, consistently is difficult. How do you manage to do so?
Time Management.
Expertise in delegating works.
Follow the Natural law of Justice/ Survival of the fittest.
Save for the lean period.
Maintain Integrity / honesty / Public faith.
Economies of Scale – Huge volumes with quality/ less profit.
Be cost-effective.
Brand building / faith in the business.
Do not expect to become a great Industrialist overnight – If you can, I can.
Whatever happens, it is all for the good.
With various multiplexes and business flooding the south Indian market, how do you handle and perceive competition so well?
What is your vision for your business and for our state's overall development in general?
What is your advice for aspiring entrepreneurs and youngsters who want to follow in your footsteps?
BUDDING MANAGERS
AUGUST 2014 ISSUE
Author:
buddingmanagers
Posted On:
Saturday, 16 August, 2014 - 15:02
Leave Your Comment