Shaping corporate champions
Abstract:


Sri Kaliswari Institute of Management and Technology Sivakasi.


Main Article:
For those passionate about education and the generic betterment of the society, good work comes naturally. While starting and successfully running a prominent B-school is a commendable feat in itself, for the patrons of SKIMT, it is just a beginning. The ultimate aim is to churn out world-class corporate champions. Backed by top-notch technology, brilliant staff and an impressive infrastructure, SKIMT has already started bringing out the best in its students by providing the best of business education to these future corporate moguls.
Your B-school has accomplished various impressive benchmarks in terms of business education; please tell us a little more about you and your college.
Sri Kaliswari Trust formed by Sri Kaliswari group of companies, which runs leading industries in the area of fireworks, matches, pyrotechnics and metal powder has established SKIMT, a standalone B school in the year 2008, in Sivakasi, an industrial hub in Tamil Nadu.
Our institute is approved by AICTE, New Delhi. We offer a two year full time MBA programme as well as a one year M.Phil in Management. These courses are affiliated to Madurai Kamaraj University, Madurai. SKIMT is housed in 2.54 acre green campus located at A.Meenakshipuram village, Anaikuttam, on Sivakasi – Virudhunagar main road.
According to you, how is studying a Management course more beneficial for an aspiring entrepreneur / manager than studying as ordinary Maters in commerce?
Management course is application oriented. It emphasizes on practice also rather than on theory alone, as in the case of master in commerce. Hence, students pursuing management course are given relevant industrial exposure.
MBA is fast becoming a hot favorite among youngsters in the country. Unlike before, when professional degrees such as engineering and medical were given preference. What's your take on this?
MBA has attracted the attention of not only arts and science graduates, but also graduates of Engineering and Medicine, because, they are able to learn not only concepts of management but also its innumerable practical application in their chosen field.
How can MBA help both a corporate job-seeker as well as an aspiring entrepreneur?
MBA provides the necessary knowledge and skills to job seekers as well as job providers.
For students who aren't particularly interested in MBA, but are looking for a more specific management course, what are the other options available?
Such students can join various specific management diploma courses, tailored to their needs offered by Universities and Institutes in areas such as marketing, Human Resources, Production and Logistics.
At the moment, which are the top five field of management expertise?
The top five fields are Marketing, Finance, Human Resources, Logistics and Hospitality.
In the corporate world, is an international perspective more essential than a localized knowledge of the national market?
In the corporate world, at the present juncture, a localized knowledge of the national market is more relevant than international perspective.
Do you believe in Ranking & Awards? If yes, how it helps in quality education and placements?
We believe in ranks and awards. They motivate the young minds to concentrate in pursuing quality education. The meritorious rank holders and award winners, fi nd it easy to get better placements.
How important is it for business students to keep themselves abreast with the present economical and political situation of the country?
Since students of management are to take decisions in the real world situations when they are employed in the corporate world after completing their course. They must keep themselves abreast with the present economic and political situations in the country.
Given how expensive it can be to study in a B-school, what is your suggestion for students who want to study but can't completely afford the cost?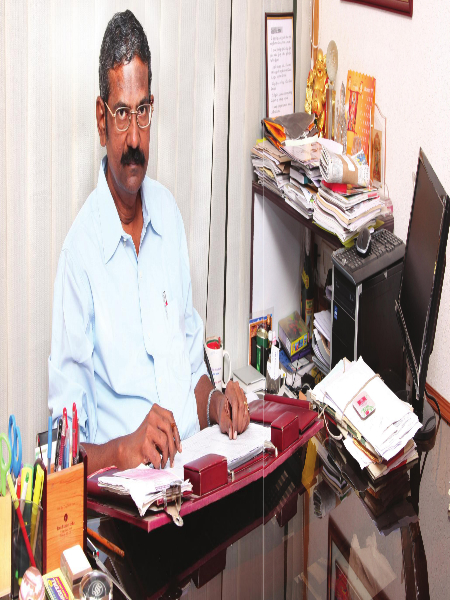 Students, who are very keen to study in a B School, may try to get educational loan from a bank, when they cannot completely afford the cost.
What edge does a student studying in your college have over a student studying overseas?
A student studying in our institute has the comparative advantage of relevant local insight than a student studying overseas.
What kind of professional development activities, such as educational excursion, on-site experience, practical interaction with top honchos are your students exposed to?
Our students are exposed to study tours visiting industries, interaction with the industry experts and academicians in the form of guest lectures, seminars and group discussions.
As a B-School mentor, how do you prepare you students to face the competitive entrance procedures and the corporate world in general?
We give them the necessary training not only to appear for the exams, but also to face interviews, improve their soft skills and to develop the right positive mental attitude.
When and how can a student apply to study in your B-School, what are the eligibly and qualification criteria?
Students who possess a Bachelor's Degree of any University or an exam accepted as equivalent thereto with a second class for general category and 45%. And above for reserved category are eligible to apply at the beginning of the academic year.
Students who are about to appear for their final undergraduate examinations may also apply in the month of March. MAT/CMAT/XAT/TANCET/CET score, academic performance and the performance during the personal interview are also considered.
Apart from academic scores, what are qualities you look for in a prospective student?
Apart from academic scores, we expect a positive attitude and keen interest to learn and practice management skills in our prospective students.
What is the latest trend in B-School education?
Apart from making the students academically brilliant, instilling in them the confidence and giving them the necessary training to face challenges in real world situations when they become corporate managers, are the latest trends in B School education.
With India housing brilliant b-schools which are now in-par with international standards, how do you forecast the future of management studies?
The future of Management studies is bright, because of the ever increasing demand for managers in the corporate world.
Where do you see SKIMT in next five years?
In the next five years, we expect SKIMT to be NBA accredited, autonomous institution offering quality education in management to students who wish to pursue MBA programme, M.Phil as well as PhD in management. We expect SKIMT to be one of the leading top B-Schools in India.
Any words of inspiration or advice for students aspiring to study in your college – the future managers and entrepreneurs?
We at SKIMT offer state of the art infrastructure and best academic environment we advice our students to fully utilize such facilities, become successful managers and entrepreneurs spreading the message of SKIMT to the outside world.
BUDDING MANAGERS
OCTOBER 2014 ISSUE
Author:
buddingmanagers
Posted On:
Saturday, 25 October, 2014 - 13:31
Leave Your Comment