CLEAN INDIA
Abstract:


Indians are extreme convenience seekers.


Main Article:
Indians are extreme convenience seekers. They spit, throw trash and urinate on roads and in public areas as they don't like to exert themselves in finding the right place for these activities. We would rather save ourselves the smallest physical trouble, than exert a bit more for the sake or order and cleanliness, or other civilized behavior.
The question is how we can put an end to this? - Through actual cleaning initiatives ? or public awareness programs ?
After successful Mars Mission in September 2014, a month later in October, on the occasion of Gandhi Jayanti, Clean India Mission or 'Swachh Bharat Abhiyan' was launched to make India clean by 2019, to coincide with the 150th birth anniversary of Mahatma Gandhi.
While the success of Mars Mission made every Indian proud as it put India into the elite club of interplanetary nations, in the matter of hygiene, India remains at the bottom of the ladder. Many critics criticized the Mars Mission on the grounds that this money could have been spent on health, hygiene etc in an underdeveloped country like India. There is no doubt the Mars Mission was highly important and marks a critical feet in the Indian space history, but if Clean India Mission becomes successful, it will be a much bigger achievement for INDIA, as it will silence these critics.
India›s fast-growing towns and cities are littered with rubbish. Most rivers and lakes are polluted with sewage and industrial effluents. No amount of growth and development can make India shine if the blot of filth cannot be removed which can be seen anywhere and anytime in India.
Over the years, many organizations have attempted to start such a program. A major reason for the failure in these projects can be attributed to the socio-cultural set up in India where cleaning is considered to be the
task of particular caste or community and as an individual achieves higher social status by virtue of education and money, things like cleaning our surroundings are considered to be menial and shameful. It's ironical that we are not ashamed of littering public places but ashamed of keeping them clean !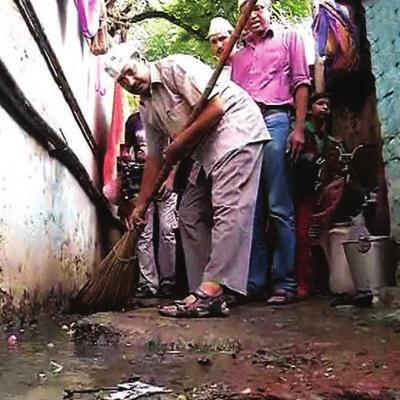 In order to make this mission successful, we have to rise above the social stratification mindset of medieval India and take up the responsibility for cleanliness. This is what Shri. Narendra Modi has done. He has picked up the broom and started to propagate the ‹cleanliness movement ‹ himself. The objective of the mission is to make the cleanliness a habit of every Indian and it is not an exclusive responsibility of a particular group. In order to make this point clear, almost everyone in the government, right from Prime Minister to a clerk in hierarchy participated in cleaning across the country. Elites don't do the menial tasks, but the greats don't consider any task menial.
Full public participation is the most essential requisite for the success of this mission. Other measures announced to make the mission successful include grant of INR 2 million each to over 2, 47,000 village panchayats across the country. The money will be provided from a fund announced by the government for Clean India Mission over a five-year period.
Government has set up a Swatch Bharat Kosh (Clean India Fund) to attract funds from corporate and individuals to improve sanitation facilities, particularly in schools. Apart from this, measure like putting garbage bins at every hundred metres, public toilets at every kilometer will also help in keeping the roads cleaner.
According to the United Nations, around half of the India's population defecate in open putting people at risk of cholera, diarrhoea, dysentery, hepatitis A and typhoid etc. According to a recent study by World Health Organization (WHO), lack of hygienic conditions and cleanliness cost around INR6, 500 to each Indian every year. The World Bank in 2006 estimated that India was losing 6.4 percent of gross domestic product annually because of poor sanitation.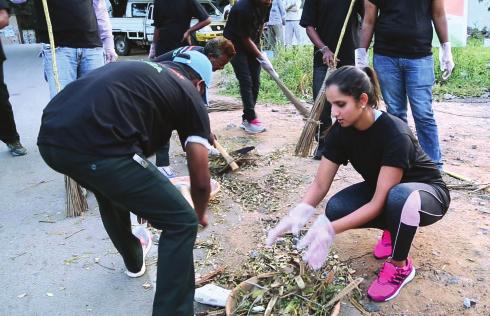 The benefits of Clean India are not restricted to the health and hygiene benefits but it has several other benefits as well. There is no element of doubt that a clean environment will ultimately lead to a healthy environment. A healthy environment will be able to sustain a healthy population which means a higher productivity of the labour leading to overall higher productivity of the economy.
Clean India Mission would also immensely benefit tourism in India. Cleanliness will definitely increase the foreign tourist arrivals in India as foreigners are very particular about cleanliness and hygiene. Tourism is very employment elastic industry and growth of this industry will definitely assist in generation of additional employment. It would also affect several other industries indirectly like hotels, transportation etc.
Apart from this it would also bring in the foreign exchange will positively affect the lower strata of the population.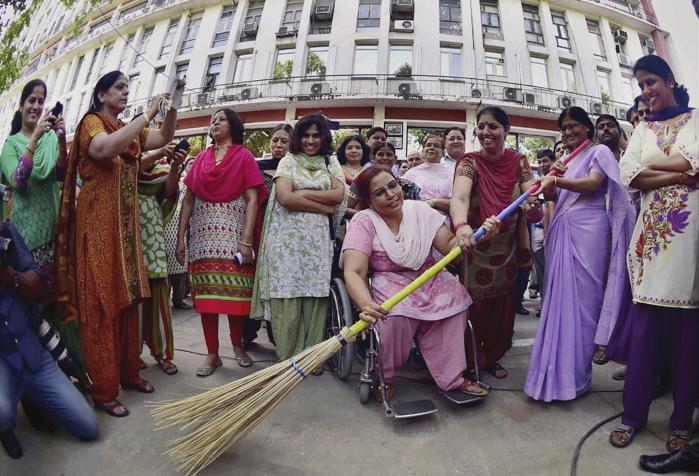 As the clean India will help in saving the additional GDP of around 6.4 percent, it tantamount to an additional saving of 6.4 percent which could be invested in critical sectors.
Thus it will help in boosting economy, image building of nation and building investor's confidence etc. Focus on cleanliness would also help in development of clean development technologies which would further help in keeping the environment clean.
No matter how menial task cleanliness may look, it has great potential for changing the fortunes of the country.
Once upon a time, opening a retail store was considered as a business venture of lower middle class but now several multinational corporations are lining up for the same. Walmart has become the Fortune 500 Company by opening retail stores across the world. In the same fashion, however small cleanliness may look at its face, it also carries immense potential to change the fortunes of India !!
Prime Minister Modi has laid a lot of emphasis on cleanliness and the very reason he launched the Swachh Bharat Abhiyan. In fact the first task done by Modi was to get his office clean, when he swore in as the PM and the cleaning was undertaken by the actual office staff. Likewise, this movement envisages a clean India through participation of every Indian. A lot of suspicion prevails over the success of this campaign, as many are arguing that until the attitude and mentality of people change no campaign can clean India. So, should government have launched a mass awareness mission to change the mentality prior to Swach Bharat Abhiyan? is probably the next debate.
A general poll was conducted and here is what people had to say about ‹mass awareness› programs and whether they were more important than he movement itself:
(Please Put a nice bar graph chart )
Yes: ( 78% )
78% expressed that awareness is the key and here is a gist of their collective opinions: -There will be no expected participation unless people's attitude towards cleanliness and its importance changes. - Indians generally cares very less about hygiene.
Most of them even spit where ever they want, as they are unaware of the health implications. Their habit will not change unless they are aware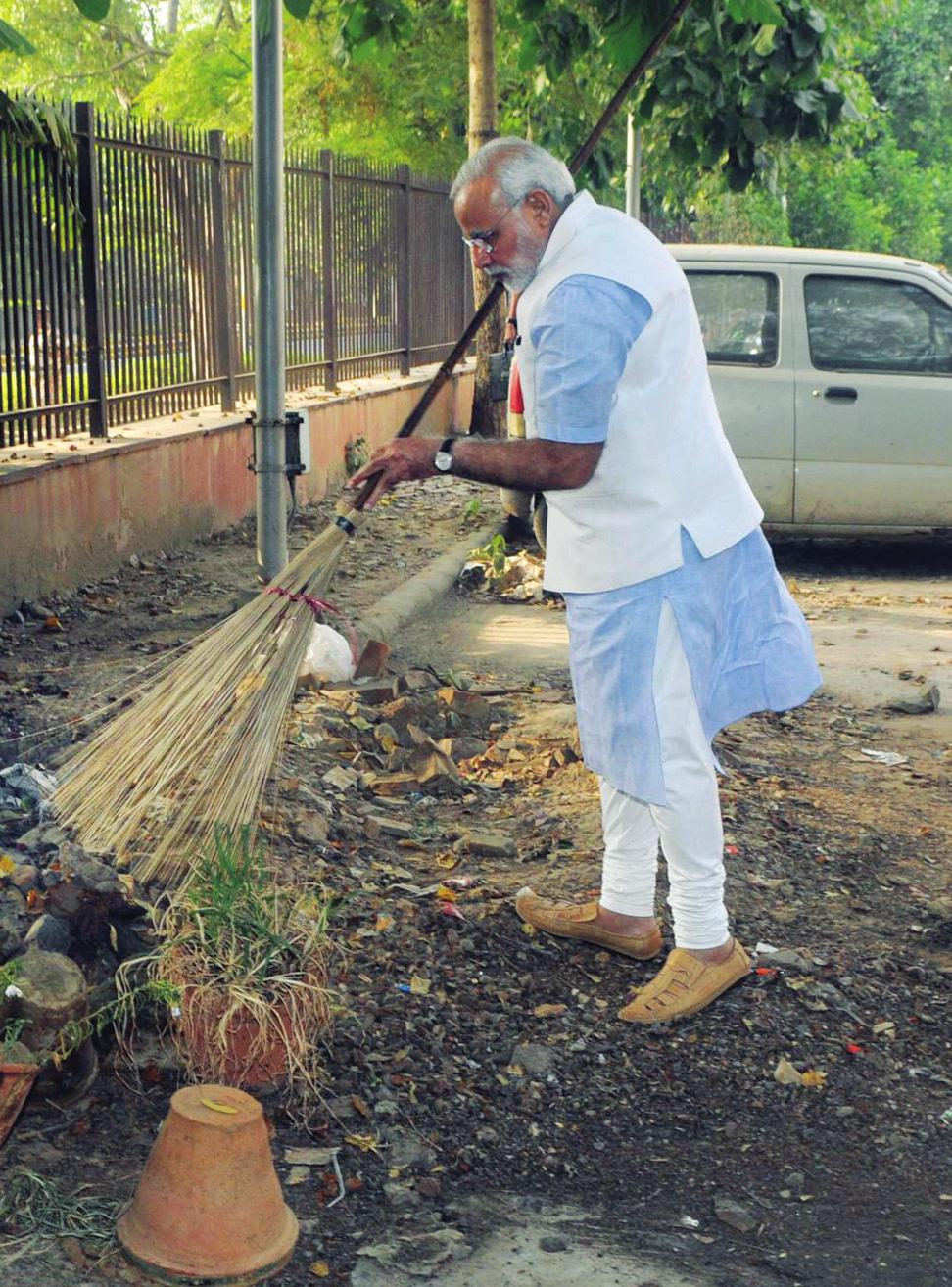 Workers indulge in cleaning jobs hardly gets any respect within the society. Most of them are from Scheduled casts. Unless the mentality towards these workers and their job changes, we cannot expect the mass participation
People keep their home clean, but when it comes to surroundings like streets, parks etc. nobody cares because they perceive it as the duty of government even though they themselves are responsible for throwing garbage and making their surroundings dirty.
No: ( 16 % )
About 16 % were in strong support of the movement and said that a separate awareness movement would be redundant in this scenario. Their opinion is captured in the points below: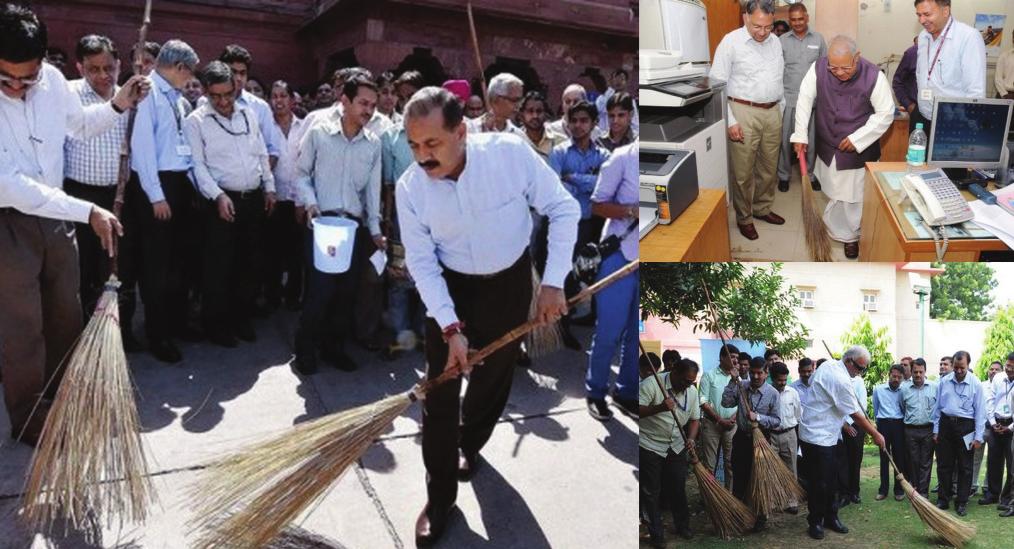 Launching this mission with active participation of PM, ministers and officials itself motivates citizens to participate.
The mission highlights the importance of cleanliness very well and making them aware is an integral part for this mission.
The issue of cleanliness was not given enough priority during the last many decades. This campaign will prioritize this issue.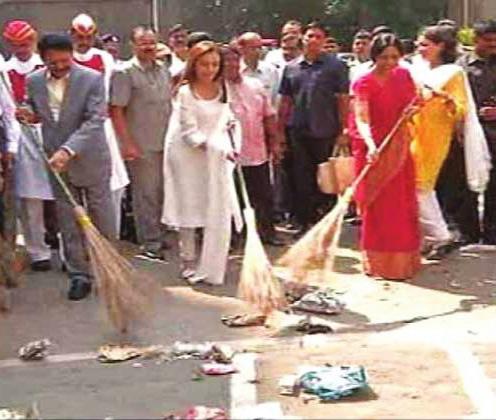 We cannot wait for changing mentalities and attitudes as burden of health diseases on the economy due to lack of cleanliness is increasing.
Most importantly, taking action for making India clean through this campaign itself is the first necessary step towards realizing this dream.
Can't Decide ( 6% )
A few people opined that nomatter what initiative is undertaken it will not be long lasting and some weren't interested to take sides.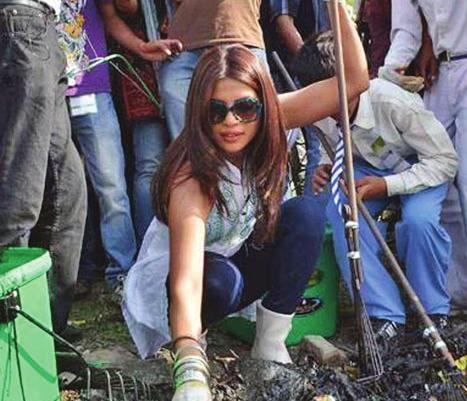 MOVEMENT PROPOGANDA:
Another interesting thing about the movement is the way in which it is made to reach the public. The initiatives of propagandaas ingenious themselves as it is majorly targeted at the Doers rather than the mere Sayers !
It has been modeled in the 'ice bucket challenge' fashion and is believed to spread through a human chain where a set of people nominate a few others to take it up openly through social media.
Many ministers of state have supported the movement and have contributed to it in their own ways. Let's look at some of these supporters and their value additions to the program .
Modi going the 'ice bucket challenge' way, embraced the social media campaign to get a larger reach and voice for the movement. In an interview Modi said: "I have invited Goa Governor Mridula Sinha, Baba Ramdev, Shashi Tharoor, Kamal Haasan, Salman Khan, Priyanka Chopra, Sachin Tendulkar, Anil Ambani and the entire team of Tarak Mehta Ka Oolta Chashma. I expect them to further extend invitations to nine more," he said. "Social media will bring about a revolution in this cleanliness drive,"
The actors/ ministers and the public have responded in a very positive way to this movement and have spread awareness in their own small way. Lets glance at a few interesting participations of these public figures.
Active Support by Actors :
A lot of Bollywood celebrities have joined PM Narendra Modi's Swachh Bharat campaign and recently, Amitabh Bachchan extended his support to the drive.
The veteran actor was seen with a broom sweeping the streets and even picking up collected garbage. Dressed in a tracksuit, Big B set an example of cleanliness for his fans. He also posted on microblogging site, twitter, "It was 'Swach Bharat Abhiyaan' .. went on the streets and broomed and collected dirt to clean up the place. The 'Swach Bharat Abhiyaan' .. personalised !! Let everyone deserve to be involved."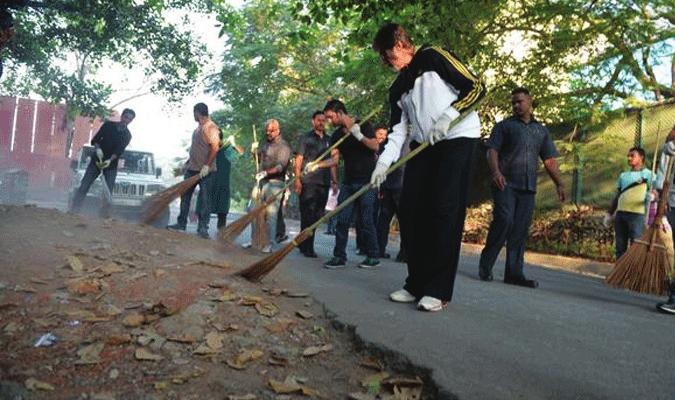 Actors like Nagarjuna and Hrithik Roshan also took up the initiative voluntarily and urged their fans to follow.
The Success of this mission lies only in the hands of the public. It is we who need to think before dropping off litter in public areas. If every one of us pick up the brooms at least in our minds - ie. think before dirtying public areas, We will make 'Bharath' ( INDIA) swatch( Clean ) and 'Surakshith' (Safe) for our progeny !!
Jai Hind !
BUDDING MANAGERS
NOVEMBER 2014 ISSUE
Author:
buddingmanagers
Posted On:
Wednesday, 26 November, 2014 - 15:31
Leave Your Comment